Shipverse: Inhibitions
A Shippy Adventure!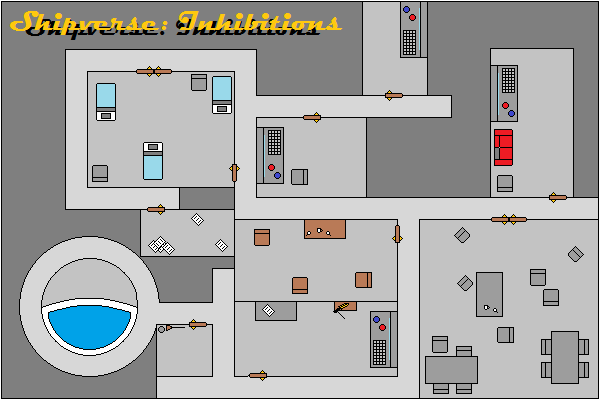 You
Wait;
Time
Passes
Quests
Create romance between...
---
---
---
Quests Completed: -- 0 --
---
Shipverse: Inhibitions
Shipverse: Inhibitions
is a game of shipping, of relationships, of pairings, and of romance
*
. In the labyrinthine halls of PPC HQ,
**
it falls to you to guide a group of hapless agents to find the loves of their lives.
***
Your agents have their own likes and dislikes, their own jealousies and hates. But this is the Shipverse. Everything can change, if you're persuasive enough...
Click on an agent to see their stats, move them to another room, or [text redacted to preserve secrecy].
Time will pass, and agents interact, each time an agent is moved, or when the Time Passes button is pressed.
An agent showing a red cross after Time Passes is being persuaded by their partner with a pink heart.
One agent who wants a relationship can convince one reluctant colleague - but only one!
Persuasion can take multiple turns - so move other agents, or keep hitting that Time button!
An agent will only want to be shipped with someone of a gender they're interested in, and who they don't hate.
An agent who already has a love interest, and who won't take more than one, will also need some persuading.
Start the Game
---
*
Yes, we know those are all the same thing.
**
Or at least, a small part of them.
***
You might think this is dodgy use of plurals, but honestly, in this game...